Chi ha un iPhone, un iPad o comunque un dispositivo Apple avrà sicuramente sentito parlare di Facetime. Il servizio consente di effettuare video chiamate con altri utenti che hanno dispositivi Apple e naturalmente il servizio Facetime attivo. Infatti, seppur si tratti di una sorta di Skype, Facetime è riservato solo ai clienti Apple. Il servizio è stato presentato nel lontano 2010, con l'avvento dell' iPhone 4, e da allora ha subito molte modifiche e miglioramenti, tra cui il supporto alle telefonate.
Read the rest of this entry »
Avete presente FaceTime, l'intera suite dedicata alle videochiamate (ed in parte anche alla gestione della fotocamera anteriore) caratteristica dei dispositivi Apple?
Read the rest of this entry »
FaceTime iPhone 6 e iPhone 6 Plus iOS come fare la chiamate video e audio Come usare FaceTime con iPhod e iPad e fare e ricevere videochiamate per parlare con gli amici e i parenti. La guida completa che vi seguirà passo passo. Con FaceTime potrete fare delle videochiamate o delle semplici chiamate audio con ...
Ora è ufficiale. Apple ha confermato formalmente l'acquisizione di PrimeSense, la società che ha sviluppato la tecnologia Kinect di Microsoft.
Read the rest of this entry »
Come anticipato qualche giorno fa, Apple ha pubblicato oggi iOS 7.0.4, nuovo aggiornamento del software di sistema compatibile con i suoi dispositivi portatili. L'aggiornamento è disponibile per i modelli iPhone 5s, 5c, 5, 4S e 4, insieme al neoarrivato iPad Air, iPad di terza e quarta generazione, iPad 2, iPad mini e infine iPod touch di quinta generazione.
Read the rest of this entry »
Altri importanti analisti confermano i rumors dei giorni scorsi: non vi aspettate un'iTV tanto presto. Prima c'è iWatch e, al massimo, un'Apple TV con chip A7.
Read the rest of this entry »
Apple ha distribuito internamente due nuovi aggiornamenti di OS X Mavericks, ovvero OS X 10.9.1 e OS X 10.9.2 Beta.
Read the rest of this entry »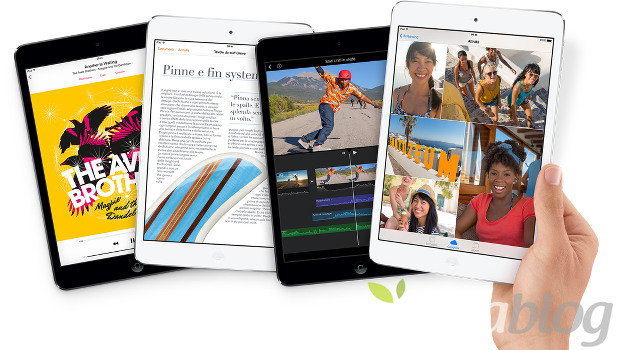 Dopo la presentazione dell'iPad Air, ecco presentato l'iPad mini di seconda generazione che tutti aspettavamo, con display Retina. Lo schermo ha una risoluzione da 2048×1536 pixel con dimensioni di 7.9″, il che corrisponde a 324 ppi.
Read the rest of this entry »
Chi sperava di aver messo già le mani sopra la versione di OS X Mavericks che presto diventerà pubblica si sbagliava. Apple ha rilasciato una seconda Golden Master.
Read the rest of this entry »