Archive for the 'Videogames' Category
CI Games è entusiasta di annunciare il lancio del tanto atteso Sniper Ghost Warrior Contracts, che promette di offrire ai giocatori un gameplay profondo che porterà la serie verso nuovi livelli.
Read the rest of this entry »
Quello dei Pokémon è indubbiamente uno dei franchise più amati e conosciuti al mondo: in oltre 20 anni di carriera, i mostriciattoli tascabili nati dalla mente del giapponese Satoshi Tajiri hanno generato una quantità davvero spropositata di merchandise, serie animate, libri, fumetti e, soprattutto, videogiochi, tra cui gli ultimissimi Pokémon Spada e Pokémon Scudo, i nuovi capitoli della serie per console Nintendo Switch.
Read the rest of this entry »
Zumba®, il fenomeno globale che ha portato divertimento e fitness in tutto il mondo – con oltre 15 milioni di persone partecipanti ai corsi, in 186 paesi diversi – approda oggi su Nintendo Switch™ con Zumba Burn it Up!, in formato fisico e digitale, pubblicato da 505 Games.
Read the rest of this entry »
Anche se molti attendono con ansia Half-Life 3, Valve ha finalmente rotto la maledizione del terzo capitolo che da sempre affligge la software house, basti pensare a Left4Dead 3, Portal 3 e lo stesso Half-Life 3 che non sono mai stati sviluppati, annunciando un nuovo spinoff della saga ma in realtà virtuale.
Read the rest of this entry »
Luca denaro, in arte ilvostrocaroDexter, è uno youtuber italiano conosciuto sul mondo del web per i suoi costanti gameplay sulla nota piattaforma di stream.
Read the rest of this entry »
NIS America é fiera di annunciare che Langrisser I & II sarà disponibile per PlayStation®4, Nintendo Switch™ e Steam® il 10 marzo in Nord America, il 13 marzo in Europa e il 20 marzo in Oceania!
Read the rest of this entry »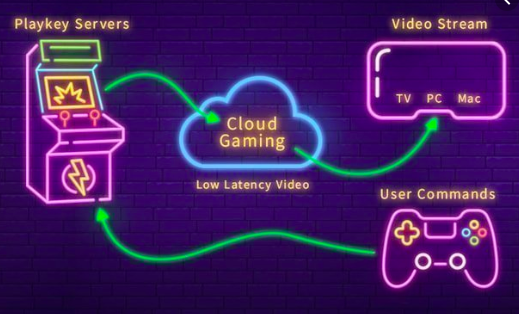 Il cloud gaming, chiamato anche gaming on demand, è una modalità di gioco online che esegue a richiesta i giochi su server remoti e li trasmette direttamente sul dispositivo di un utente (PC, smartphone, tablet, smart tv). Un po' come fa Netflix con lo streaming per il cinema e Spotify per i brani musicali, tanto...
Read the rest of this entry »
Nulla fa battere il cuore all'impazzata come una bella situazione "uccidi o muori" vecchio stile. Ecco perché questa settimana abbiamo messo in evidenza alcune modalità Competizione. Iniziamo da Guerriglia motorizzata, una lotta per la sopravvivenza post-apocalittica, che mette in palio ricompense triple per tutti i giocatori disposti a paracadutarsi in una zona di guerra armati solo di una pistola e della propria astuzia.
Read the rest of this entry »
Bigben e Toplitz Productions sono liete di annunciare che Farmer's Dynasty è ora disponibile per Xbox One e PlayStation®4. Hai sempre sognato di vivere in campagna? Ora puoi con Farmer's Dynasty: torna alla natura e diventa un contadino!
Read the rest of this entry »